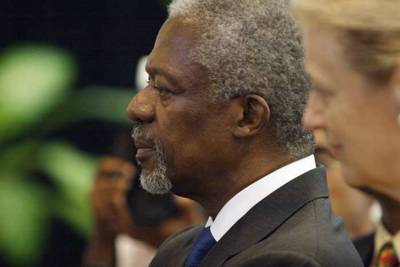 UN Secretary General Kofi Annan visits the National Disaster Management Centre set up in Male', Maldives on January 9. Photo: Eagan

UN Secretary General Kofi Annan has said that the Maldivian social system has been destabilised after the tsunami,
reports
AFP's Amal Jayasinghe. Annan spoke to reporters before he left Maldives on Monday concluding his tour of the countries hit by the tsunami.
As he left the Maldives after a 24-hour visit, the UN secretary general told reporters that although death and destruction in this tiny Indian Ocean atoll nation was not as bad as in other Asian countries, it had paid a high social price.

"One cannot look at it in terms of numbers alone," Annan said when asked for his assessment at the end of his tour.

"The destruction and death in other countries is worse, but extensive damage has been caused in the Maldives where one third of the population has been affected."

Annan is hoping to raise a billion dollars at a pledging conference the United Nations is calling in Geneva Tuesday. He said a part of that money will go to the Maldives, but could not say how much.

However, the UN office here said they were looking at 66.5 million dollars for immediate relief work. The Maldives has estimated its losses at 1.3 billion dollars.
Link